5 Extreme Xterra Project Rigs
With crossovers conquering the streets these days, the Xterra stands out as one of the few SUVs still built on a truck chassis. Even though it was recently discontinued in the U.S., Xterra fans everywhere remain loyal and continue to drive and modify their Xterras. These five off-road rigs take Xterras to a whole new level.
1. Angel Cruz's 2007 Xterra
Photo credit: Greater Pennsylvania Area Xterras
GPAX (Greater Pennsylvania Area Xterras) member Angel Cruz proved that the Xterra isn't just a grocery-getter when he drove his 2007 Xterra in rocky terrain at the Chaos Off Road Park.
A swapped V8 motor powers Cruz's land beast, allowing it to navigate hills without much trouble. Another swap done on this car is the solid axle. It now cruises on Dana 60 differentials and 40" all-terrain tires. There's also the snorkel, roof rack, and updated front bumper. This looks like a pretty solid off-road vehicle, if you ask us.
2. Dave Parrish's 2005 Xterra
Photo credit: Greater Pennsylvania Area Xterras
Another GPAX member with a sick Xterra rig is Dave Parrish. It's clear that he went all out on this one. The flood lights, axle swap, snorkel, front bumper, winch, and roof rack are some of the most noticeable mods done on this Xterra.
3. Oz's Mid-2000s Xterra
Photo credit: ClubXterra.org user La Rana
A user at ClubXterra.org named Oz tricked out this Xterra with some serious mods. For starters, he lifted the SUV by six inches, added a custom bumper to the front, installed a snorkel, equipped it with flood lights, and upgraded the suspension system.
4. Allen Cox's Early-2000s Xterra
Photo credit: Allen Cox
Mechanic and Nissan enthusiast Allen Cox spends his time building custom rigs, including this Xterra. It looks like he went all out on this project with the snorkel, the axle swap, and a whole bunch of other mods that can't be seen by the naked eye. Our favorite part about this rig is the body. It no longer looks like an SUV, but rather a vehicle just for off-roading. Thumbs up!
5. Rebeca Olavarrieta's Early-2000s Xterra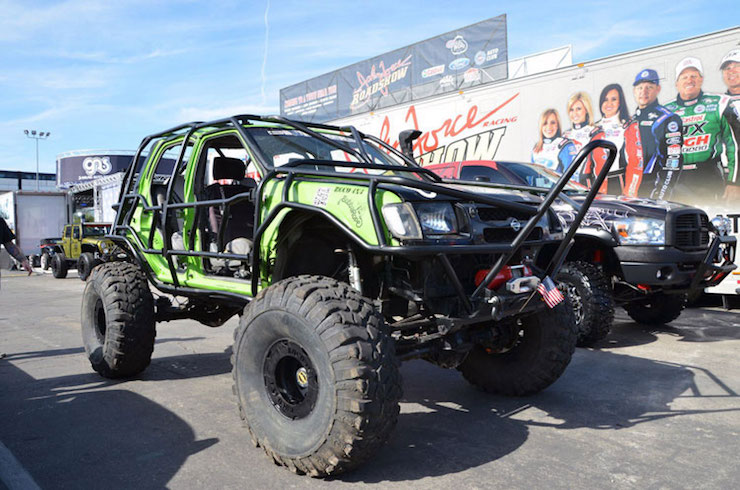 Photo credit: K&N Filters
Who needs a Jeep Wrangler when you've got this? Rebeca Olavarrieta, a 4x4 shop owner, unlocked the inner potential of her Xterra with tons of mods. Believe it or not, this rig is completely street legal. The original body and engine still remain on this car, but pretty much everything else was either replaced or altered.
Some of the modifications include:
An upgraded air intake system
Super duty front and rear axles with chromoly shafts
A gear-driven transfer case
A custom internal and external cage
Custom front and rear bumpers
A custom-built triangulated suspension system
Rebeca's hard work paid off. Her Xterra netted two awards: Petersen's 4Wheel and Off Road in October 2011 and Ultimate Adventure Coverage in November 2011.
Which awesome Xterra rig on this list do you like the most? Let us know on Facebook!